KCR Software "FLUIDS for Windows", a finite difference computer routine, evaluates pressure drop of flow through a system.The routine solves systems on a macro level while not being concerned with molecular flow along a slip stream. The cross sectional area and pressure loss coefficient of a duct are inputted by the user. FLUIDS determines pressure loss and flow rate for each distinct part of a system.Throughout the model, heat sources and heat sinks may be specified. The fluid temperature is calculated based on mass flow rate and heat dissipation at each section. The routine also handles conduction, radiation and convection heat transfer for both steady-state and transient conditions.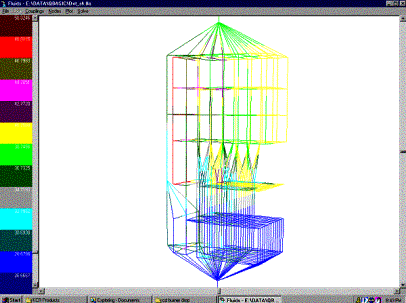 FLUIDS is capable of calculating pressure drop for various liquids and gases. Originally designed to determine air flow distribution through electronic equipment, the routine is capable of also handling Water, Ethylene Glycol, Hydraulic Oil (5606), JP-4 Fuel, Nitrogen Gas, and Coolanol 35. In addition to its ability to analyze air flow through electronic equipment, FLUIDS can be an excellent tool for modeling water irrigation systems, solar systems, aircraft fuel flow systems, or heating/air conditioning duct systems for commercial multi-story buildings. An entire electronic cabinet can be modeled to determine air flow and temperature at any specific point within the cabinet. FLUIDS takes into consideration the effect of localized heat generation on fluid density in its analysis of the system. This routine performs analysis through the use of finite difference modeling. A printer simplifies result presentation but is optional. The solution to FLUIDS is obtained by solving a single set of simultaneous equations using Gausian elimination. FLUIDS supports variable heat generation and phase changing materials. Editing features have been included that speed model generation and facilitate error discovery. This program has been designed to be particularly useful to technical personnel and care has been taken to simplify use whenever possible.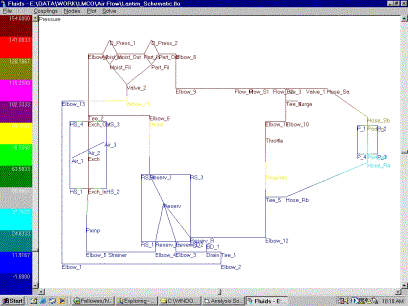 "FLUIDS" uses finite difference modeling to determine flow rates and temperatures while handling multiple flow paths with any number of sinks and sources. Either flow rates or pressures may be specified. Unique model editing features of this routine include the substitution feature, insertion/deletion feature, and a repeat feature. The substitution feature provides a method of changing whole blocks of data with a single input. Sequential node numbering is not required, therefore insertion or deletion of a node can be easily accomplished. This routine is obviously designed with the user in mind. It has many features to make it simple to use while the program is capable of calculating very complex, technical problems. The results are printed in a form that is readily understandable and efficient.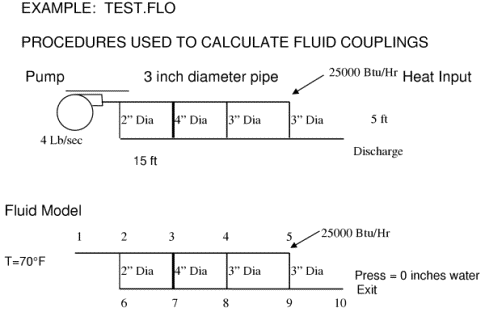 Our software routines may be downloaded from this web site and are fully operational for your testing for about 30 days.
Fluids
Brand: KCR Products
Product Code: Fluids Ver: 5
Availability: 99999
$1,500.00

Ex Tax: $1,500.00
Related Products
Tags: Software, Thermal Analysis, Fluid Flow, Transient, steady state, 3d Modeling, KCR Software