KCR Software Vib, Random Vibration Analysis determines:
G2RMS for input curve and for response curve
Transmissibility, based on user specified damping ratio
Response curve, based on user specific natural frequency
Allows response curve to become input curve
Calculates power dissipation due to damping (isolator heat generation)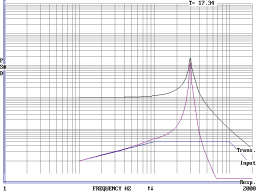 Random vibration Software is an essential technical tool for analysis of anything that vibrates. It will provide a visual presentation of random vibration by plotting input, transmissibility, and response curves. This presentation and calculation of G2RMS values will provide the engineer with a feel of vibrational loading and the effects of changes in damping ratios. Accurate analysis during the design stage will provide a better product with a longer life. The data presented is very simple: transmissibility, response and G2RMS. An attempt is made to determine heat dissipation of the vibrating body.
Out vibration Analysis Software is a very user friendly making it simple to operate. No need to spend hours reading operation manuals. Simply insert the disk and follow the on-screen prompts while being lead through the whole routine.
Vibration Analysis
Brand: KCR Products
Product Code: VIB Ver: 2.2
Availability: 99999
Related Products
Tags: Software, Thermal Analysis, KCR Products